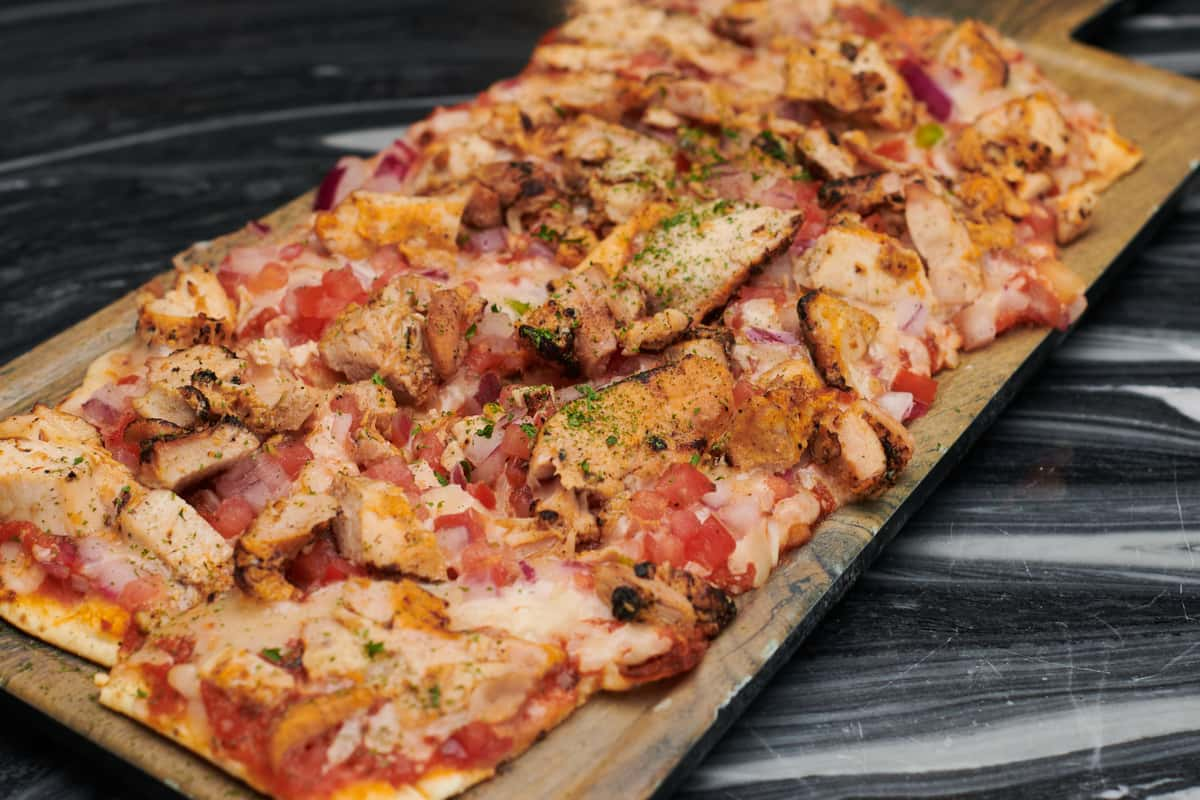 Reviews
Leave a Review
"I love all the food and I always get the calamari."
"The mumbo wings along with the amazing fries are my favorite! The wings were fried to perfection yet still have a lot of sauce. 10/10 recommend!"
"This place was the most pleasant surprise - in terms of style, food and drinks! Bruschetta was so simple yet indulgent - I easily could've had a few plates :X The bread was buttery with some sort of cheese melted on and the topping was similar to pico de gallo, it was such a win. My favorite meals are the simple ones done well or with a twist, and this was definitely one of those. Cant wait to go back!"
"I love all the food and I always get the calamari."
"Mumbo wings with a side of ranch please"
"SOME OF THE BEST WINGS IN CHARLOTTE HANDS DOWN!! This food is wonderful with their signature wings that are just the perfect crunch and perfection."
"I love all the food and I always get the calamari."
"The mumbo wings along with the amazing fries are my favorite! The wings were fried to perfection yet still have a lot of sauce. 10/10 recommend!"
"This place was the most pleasant surprise - in terms of style, food and drinks! Bruschetta was so simple yet indulgent - I easily could've had a few plates :X The bread was buttery with some sort of cheese melted on and the topping was similar to pico de gallo, it was such a win. My favorite meals are the simple ones done well or with a twist, and this was definitely one of those. Cant wait to go back!"
"I love all the food and I always get the calamari."
"Mumbo wings with a side of ranch please"
"SOME OF THE BEST WINGS IN CHARLOTTE HANDS DOWN!! This food is wonderful with their signature wings that are just the perfect crunch and perfection."
"I love all the food and I always get the calamari."
Jermaine Parker
My wife and I stumbled across Nick and Mike's last night. We're so happy that we did. The owner Russ greeted us and made us feel welcome. The atmosphere was wonderful. Of course, that doesn't matter if the food isn't good. Well, the food was excellent (I had the salmon) and the drinks were great too. Definitely going to be back again soon for another date night.
Orlando Jacobs
Experienced this location for the first time with my siblings. Enjoyed the black bean burgers so much came back again in mother's day with my best friend and his mom. The atmospheres is very relaxing, grown and sexy and therefore mature. The bar is equipped with 5 large TV's overlook the bar area. Great great great.
A H
Great prices and the food and sauce is custom made! The owner often stops by and makes great conversation too. Love the look of the restaurant as well. Definitely check it out!!. Definitely going to be back again soon for another date night.
Nikita Watrous
We had the wings and burgers. The wings were amazing! So crispy!!! No soggy wings here! The burgers were big, juicy, and flavorful! The drinks were delicious too. Definitely my new go-to place for date night.
Sheryl Bell
Loved this place. Visited for the first time last night. The owner and staff was wonderful. The food was great and the atmosphere was just what we were looking for. Hubby and I will be back!